A few weeks ago, I wouldn't have believed it was possible to shop for healthy, organic food products from home, and do it cost-effectively. But then I came across Thrive Market, and today I think it can be done!
Thrive Market is the first socially conscious online marketplace offering the world's best-selling natural and organic products at wholesale prices. Think Costco meets Whole Foods online.
For less than $5 a month ($59.95 annually), members can shop 3,000 of the highest quality food, supplements, home, personal care, and beauty products from more than 400 of the best brands on the market, all delivered straight to their doors at 25-50% below retail prices.
This innovative marketplace offers healthy brands like Weleda, Dr. Bronners, Spectrum Naturals, Garden of Eatin', Bob's Red Mill, Nature's Path, Eden Foods, Annie's Homegrown, Earth's Best, Seventh Generation, Garden of Life, Jason Naturals and many more of the highest-quality premium brands and products to everyone at 25-50% below retail prices.
Plus, they offer free shipping on all orders over $49 and deliver anywhere in the continental United States. The average cost of shipping on orders under $49 is approximately $5 (but it's easy for us to put together an order for more than $49 so I don't anticipate paying shipping ever).
So, this sounds too good to be true. I don't have to drive to our closest "health food" store (which happens to be about 25 miles each way), they will ship it to my door for free, and it's 25-50% less that what I'd pay at the store? I had to give it a try. Even the membership fee wasn't a big commitment, everyone can try out Thrive Market with a free one-month trial before you start paying the annual fee.
In my first order, I made sure to purchase things that were easy to break, easy to crush, and from a variety of categories – just to see if they would make it to my door intact. And they did! The box arrived in good shape, and was marked as containing fragile and liquid items.
Upon opening, everything inside had been well padded, and the box included the packing list detailing what I'd ordered.
The glass containers were packed in additional packing material, and the tortilla and potato chips (I was testing to see if they'd make it ok) were in great condition. Not crushed at all!
So, everything in my first order arrived in terrific condition, and I didn't have to drive to get it. What about the prices you ask? Well, when I compared pricing at my normal "health food" store, they were definitely 25 – 50% less than what I would have paid there. When I compared pricing at my normal "traditional" grocery store, competition was closer (for those items I could find in the traditional store).
The Clif bars and soups were about comparable (they happened to be on sale at the traditional store when I compared), and the organic soup bases were $7.39 at the traditional grocery but were only $5.35 through Thrive Market.
So, I have to say that I'm impressed so far. I feel that pricing was indeed below retail, I didn't have to use gasoline, and I could buy from a bigger selection of healthful products than what's available at my traditional store. Buying online will be something for me to adjust to, but I'm going to give it a try. They carry only non-perishable products, but since we produce our own eggs, honey, milk, produce, and most meat; it's not that big of a limitation.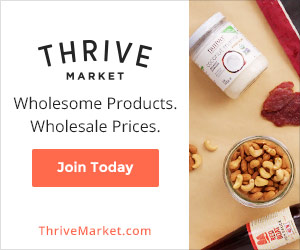 They're trying to be responsible too. For every paid membership, they donate a free Thrive Market membership to a low-income American family. All packaging, boxes and inserts are made from recycled paper and are recyclable as their commitment to sustainability. And, members can access healthy and natural alternatives to conventional products found at traditional supermarkets for the same or often lower prices.